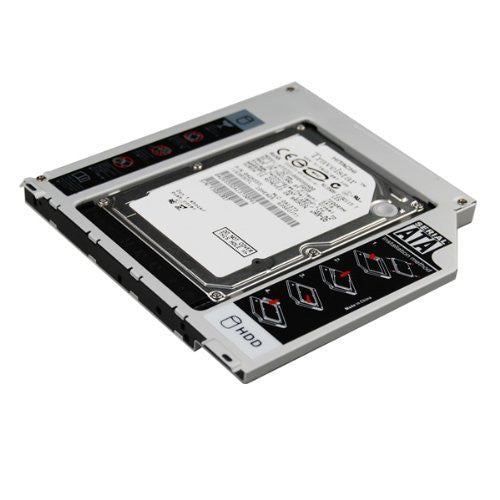 HDD Caddy Tray for Unibody MacBook / MacBook Pro 13 15 17 inch SuperDrive
These days people have little to no use for their optical drive; So turn it into a second Hard Drive Bay!
Swap your existing Optical CD/DVD Drive and turn it into another slot for an HDD or SDD
That way you can keep your existing HardDisk for Media storage and install a Second SSD as well!
Ideal Configuration would be: SSD would contain the System OS installation (Mac OSX) and your existing HDD would be used as a secondary storage for Media (Photos, Videos, Etc..) 
Best of Both Worlds!
This hard drive caddy replaces the internal SuperDrive of your Unibody MacBook, MacBook Pro (13,15,17) with a

It can be made part of RAID array and Bootable.

Compatible with: 2.5"/9.5mm SATA HDD or SSD, Hard drive NOT include
Compatible Models: Macbook: MB466LL/A, MB467LL/A, MB881LL/A, MB240LL/A, MB207LL/A, MB516LL/A,
Package Content: 1x 2nd HDD Caddy for Apple Macbook Pro, 4x Hard Drive Screws
Macbook Pro: MB470LL/A, MB471LL/A, MB604LL/A, MB026LL/A, MB990LL/A, MB991LL/A, MB118LL/Am, MB985LL/A,

MB700LL/A, MB721LL/A, MB723LL/A, MB724LL/A, MB725LL/A (Early 2011)